Guyana Boudoir Photo Ariantze Hotel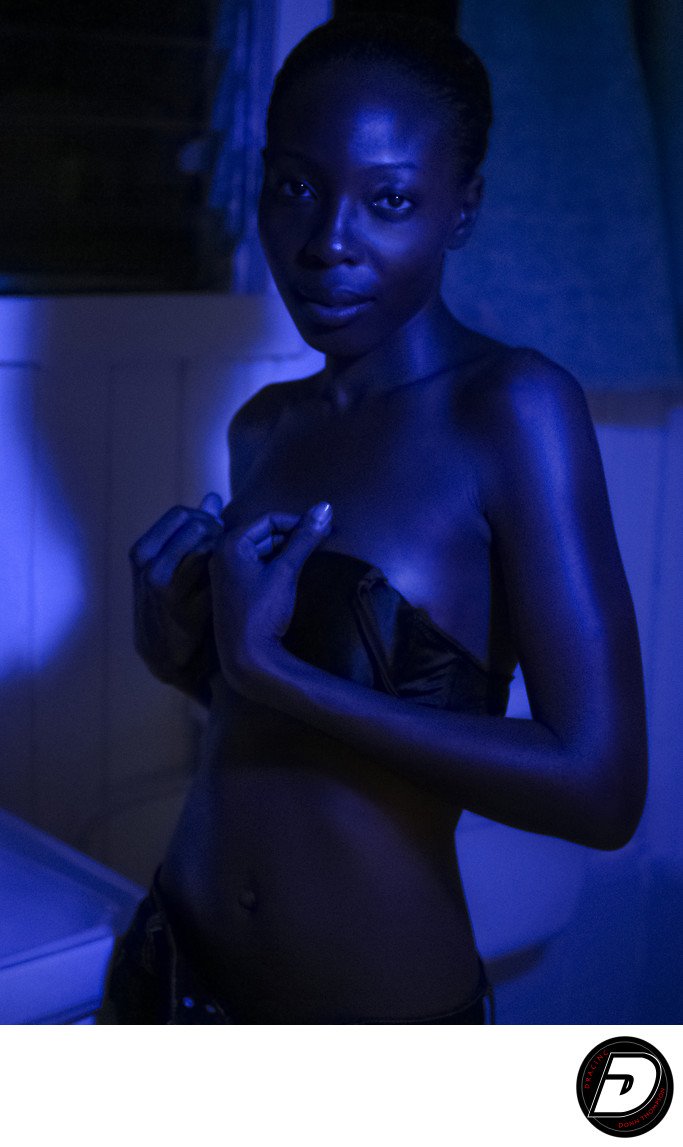 Ariantze Hotel Guyana Boudoir Photography
Blue lights were the best choice for this intimate Boudoir photoshoot inspired by New York Photographer, Donn Thompson. Shot at the Ariantze Hotel on Middle street, in the heart of Georgetown, Guyana, is this old-world charming place.
The artfully painted walls are made of imported wood from Guyana's interior. It is also a place to sample many signature dishes originating from Guyana. Downstairs is the Sidewalk Cafe (now known as Midtown Cafe) which turns into a Jazz Night Club during after hours. Here, one can enjoy the soothing sounds of South America's finest jazz musicians.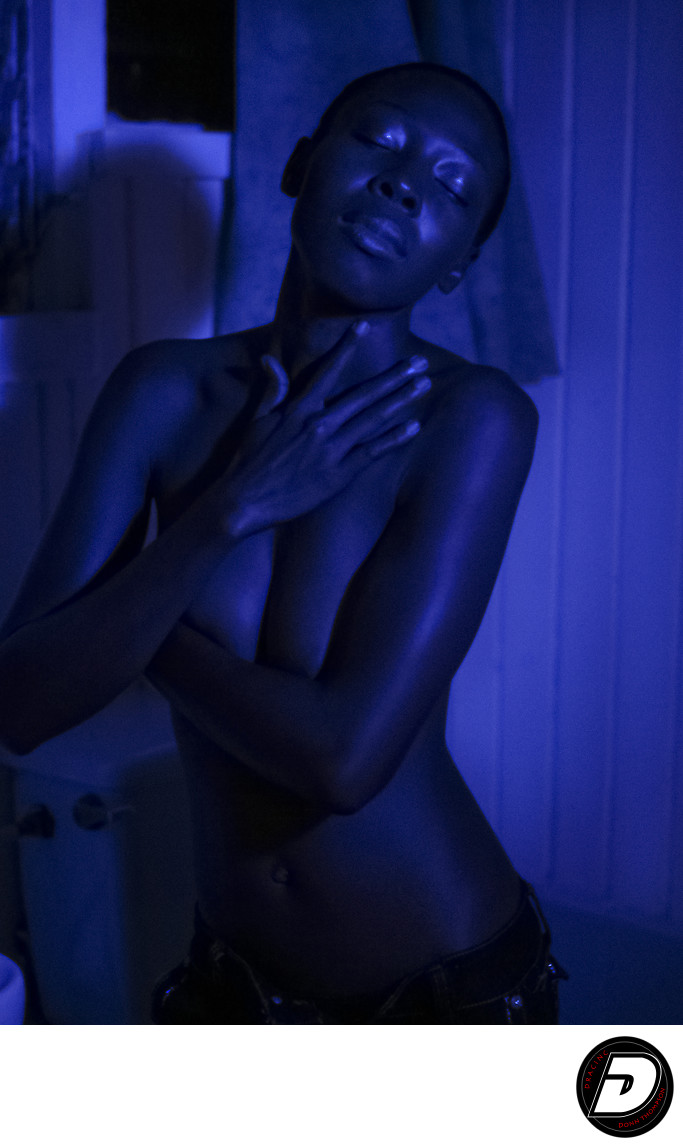 Boudoir Photography Ariantze Hotel, Guyana
A tall, slender-necked, dark skinned female discovers her reflection in the mirror. The blue mood light illuminates the emotions stemming forth from her suggestive demeanor. The light embraces her eyelids like two moonbeams thrust across the sky. Consumed by intense feelings and completely wrapped up in the moment, she clutches her chest.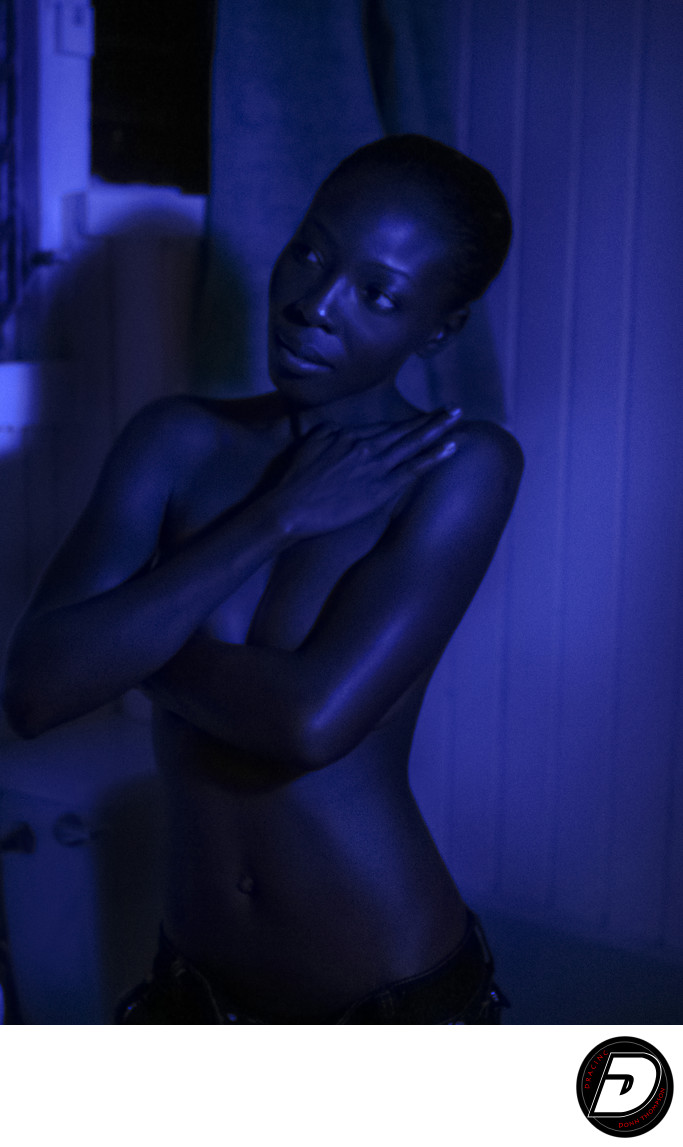 Boudoir Photography Sidewalk Cafe, Guyana

Underneath this modestly dressed woman, a tender vulnerability is exposed. The gleam in her eyes is a glimpse of her inherent innocence. The blue color gels cast intricate patterns of highlights and shadows on her immaculate body. In the privacy of her own space, she expresses herself freely. Unhibited by the inconsequential opinions of others, she finds the courage to be her authentic self.




Boudoir photography by Dracinc / Donn Thompson




Location: 176 Middle Street | South Cummingsburg, Georgetown, Guyana.

Keywords: advertising photographer (80), Ariantze Hotel Guyana Boudoir Photography New York, Bahamian advertising photographer (18), Bahamian photographer (13), Best boudoir photography (11), best boudoir photography in new york (15), Boudoir harlem (16), boudoir photography (15), Boudoir Photography Guyana (2), donn thompson photographer (85), dracinc photography (126), Guyana Boudoir Photo Ariantze Hotel, Harlem Boudoir (13), Nassau Advertising photographer (21), new york advertising photographer (110), new York beauty photographer (110), new york boudoir photographer (28), new york city boudoir (5), New York City Boudoir Ariantze Hotel Guyana, new york fashion photographer (116), new york photographer (130), new york portrait photographer (84), nyc photographer (101).

1/100; f/2.8; ISO 200; 43.0 mm.

These images are protected by copyright. © 2020 Donn Thompson / Drac Inc. No use, theft, or duplication of this actively monitored images shall be granted without the written permission. Compensation will be aggressively pursued. Email dracincc@me.com or donnthompson@dracinc.com for more info.