Commercial Advertising Photographer TNJ Summer 2018
As a New York Portraits Photographer, photographing The 40 Under Forty, 21st Annual Achievers Awards with the six young sexy professionaL. Standing Left to Right. Samuel Bright, from eBay Inc. Alexys Feaster, from the National Basketball Association. Leslie Pitterson, From Nielsen. Deborah Kemi Martin, from Dechert LLC. Jonnel C. Doris, From The Office of the Mayor New York City. Seated, Detavio Samuels, from Urban One.
It was a fantastic day to photograph the six sexy young black professionals who are so diverse than those of a larger professional workforce. Putting the six together to achieve this outstanding cover was, for sure, reaching for higher goals.
Contact New York Advertising Photographer Drac Inc / Donn Thompson for your cover shoot.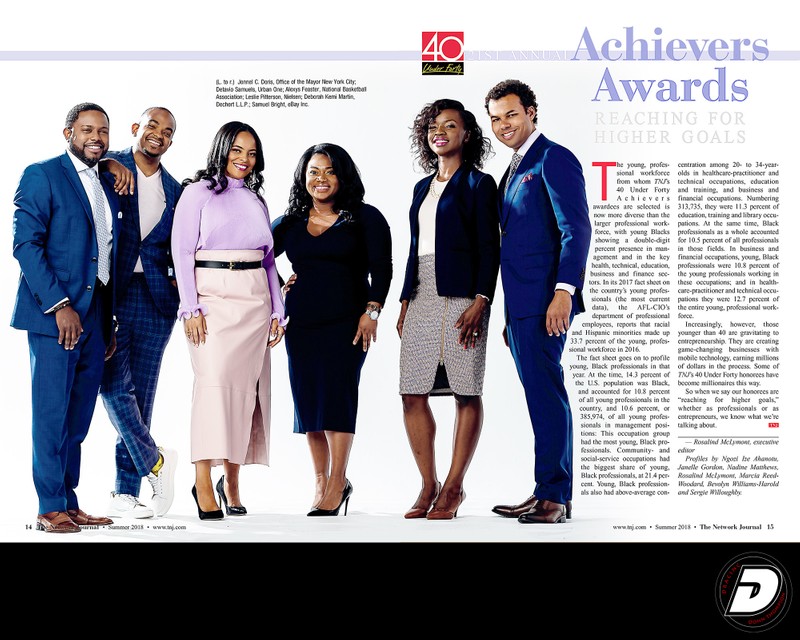 I used Speedoron Strobes 2400 pack lighting with an extra-large softbox in front and a Speedotron 102 head with a 7" reflector at the back to create a highlight on the hair.

Shot with a Canon EOS 1 DX camera.




Location: 16 Beaver Studio, 16 Beaver Street, 6th Floor New York, NY 10006.

Keywords: 40 Under Forty, advertising photographer new york ny (19), advertising photography new york ny (15), Best New York Fashion Photographer (27), Best New York Portrait Photographer (7), best photographer new york (11), Commercial Advertising (3), Commercial Advertising Harlem Photographer (3), Commercial Advertising Photographer TNJ Summer 2018, commercial photographer (3), commercial photographer los angeles ca (9), dracinc new york beauty photographer (5), lifestyle photographer new york ny (6), new york (68), new york city (4), new york commercial photographer (3), New York Donn Thompson photographer (2), the network journal (2), The Network Journal Summer 2018.

These images are protected by copyright. © 2021 Dracinc / Donn Thompson . No use, theft, or duplication of this actively monitored images shall be granted without the written permission. Compensation will be aggressively pursued. Email dracincc@me.com or donnthompson@dracinc.com for more info.