Harlem Photographer Lotus Queen
Beads of sweat glistened on her velvety, caramel skin, much like the morning dew spotted on a lotus leaf. A new day had dawned for this royal heiress as she rose to the highest power. Adorned with striking, large gold hoops, and lips painted with a regal, cherry color, she ascended her rightful throne. Her majestic head wrap was her crown and an emblem of her reign. With a commanding gaze towards her faithful subjects, she ruled over her empire. A beautiful image captured by New York Beauty Photographer Donn Thompson at Dracinc Studio.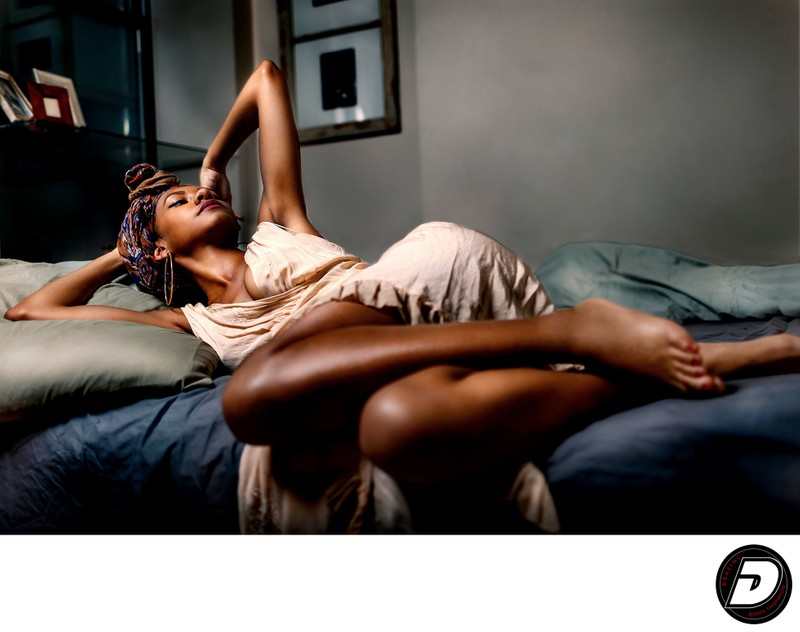 Her empire where she is always a queen. The throne, where she rules her bed. Her sleep! Where it all starts when she closes her eyes and ends as they open. New York Beauty Photographer. Donn Thompson.
Location: 152 West 124th Street, New York NY. 10027.
1/250; f/2.0; ISO 50; 35.0 mm.
These images are protected by copyright. © 2021 Dracinc | Donn Thompson . No use, theft, or duplication of these actively monitored images shall be granted without written permission. Compensation will be aggressively pursued. Email info(@)dracinc(.)com for more info.